Pet Tiger new mapping module (PDF)

Alliance between Orange, Motorola, ADP and Dole(PDF)

Pet Tiger new HR & Training modules (PDF)

Pet Tiger new Packing House module (PDF)

Pet Tiger new iPhone/iPad module (PDF)

Pet Tiger Brochure (PDF)

Pet Tiger Information (PDF)

Pet Tiger Information for All Industries (PDF)

Pet TigePET Tiger Editorial & Testimonial A (PDF)

Pet TigePET Tiger Editorial & Testimonial B (PDF)

Pet Tiger Dole/SunnyRidge - Motorola Study (PDF)

Monitoreo de Nomina y Empleados (PDF)
PET Tiger™ - Employee Tracking

Payroll Employee Tracking (PET) Tiger is a paperless and wireless labor management tool that incorporates different technologies such as time clocks, biometrics and handheld devices. Via its comprehensive data collection methodology and database structure, employers gain control and better performance through analysis of their operations. It is compatible for use with virtually any electronic device, including Android, Apple and Windows products. Nor is it dependent on one specific operating system or service provider.
extends data collection and processing capabilities to a new level of ease and friendliness. Simplicity and flexibility are the key forces behind our Tracking system.
Just issue your employee's their own bar coded or RFID badges. Streamline paydays, track employees and experience the many other benefits that bar code and RFID technology can bring to your business. Employee tracking system can also provide you the means of capturing data about your work flow, labor allocation, job costing, inventory utilization, harvest information and many other facets of your business.
This systems' true strength lies in how straightforward collecting the scan data is. Field personnel learn the scanning procedures easily and are therefore much more receptive and willing to incorporate the system into their daily routines.
Enter your data via an electronic scanning device, by means of the barcode or a RFID tag. The system handles piece and hourly rates, or a combination of the two. You can even track the number of piece units accumulated but pay only hourly! Scan in an entire crew at once; enter other Employees as individuals. Defaults are maintained to minimize the number of scans necessary.
Thanks to advances in technology, labor management is no longer about maintaining manual records of hourly wages or piece work data. Gone are the days of being lost in paperwork, tending to handwritten time sheets and payroll calculations. Today, agricultural operations are electronically monitoring labor data to make efficient management decisions and improve overall productivity.
Click on the question below to learn more:

What is PET Tiger™?

Why choose PET Tiger™?

What are the benefits of using PET Tiger™?

What type of support do I get with Orange Enterprises?
We are experts who empower our customers to effectively manage their workforce. P.E.T Tigers enables you to reduce costs, increase productivity and accuracy, improve employee satisfaction, and ultimately enhance your bottom line.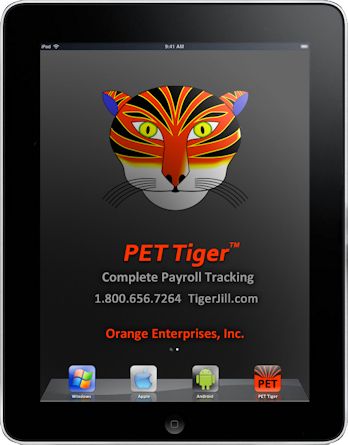 Call us today to see what we can do for you! 559.229.2195